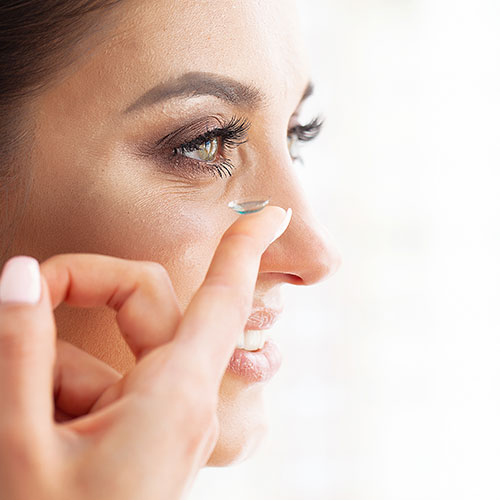 Providing The Best In Contact Lens Exams & Care In Castle Rock, Castle Pines, & Lakewood
Black Diamond Eye Care offers many options for contact lenses.
Black Diamond Eye Care is proud to be able to offer the very latest in contact lens designs and materials available – including lens materials best for those with dry eye issues and lens designs for hard to fit prescriptions. We fit specialty scleral, hybrid and RGP contact lenses and fit contact lenses post corneal cross-linking.
What are the benefits of wearing contacts?
Are you new to contact lenses or wondering what it's like to wear contact lenses? The biggest benefit that contact lenses can provide is simplicity and freedom. Contact lenses are discreet, for those of you that just don't like the look of glasses. There are some times when wearing glasses is simply difficult, such as when participating in sports or recreational activities that require goggles. No more losing your glasses or accidentally leaving them somewhere or sitting on them.
Contact Lens Exam: Castle Rock, Castle Pines & Lakewood
Regardless of the type of contact lenses you wear, an annual eye exam with your eye care professional is recommended to ensure the continued good health of your eyes. Schedule an appointment for an eye health assessment and advice with your eye doctor at Black Diamond Eye Care in Castle Pines, Castle Rock or Lakewood today.

Soft Lenses  •  Gas-Permeable (GP) Lenses  •  Scleral Lenses  •  Multifocal Lenses  •  Specialty Hybrid Lenses  •  Color Contact Lenses  •  Dailies