Cooper Vision Best Practices Award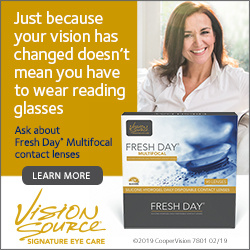 Black Diamond Eye Care Named One of the Nation's Best Optometrist Practices by CooperVision
Castle Pines Eye Care Practice is Among 10 Honorees Recognized for Success in Optometry
CASTLE PINES, COLO., April 24, 2017 — For its leadership in optometry and delivery of exceptional care to its patients, Castle Pines Eye Care (now Black Diamond Eye Care) in Castle Pines has been named a 2017 Best Practice by CooperVision, Inc.—one of the world's leading manufacturers of soft contact lenses. This first-of-its-kind initiative seeks to discover and recognize U.S. eye care practices that have found unique ways to make their businesses thrive, and celebrate the visionary and innovative things they do every day for their patients and communities.
Castle Pines Eye Care (now Black Diamond Eye Care) is included among the 10 honorees chosen as the inaugural class of Best Practices after a nationwide search that began in Fall 2016. Honorees were first announced last month, and are profiled on the program's web site at www.eyecarebestpractices.com.
At Castle Pines Eye Care, owner Dr. Jason Ortman, OD, believes that embracing technology is paramount to running a successful practice. After he purchased the practice 10 years ago, patient charts and accounts were converted to electronic health records, thus streamlining office functions and providing a superior patient experience.
Since then, the doctors and staff have automated several processes including refraction, ocular coherence tomography, and fundus photography transfer, the patient recall system, patient reminders via text and email, and patient satisfaction surveys and reviews. In 2016, Castle Pines Eye Care added live patient scheduling via its website, providing convenience to patients and freeing up staff time to focus on other tasks.
The practice also utilizes several programs to provide personalized marketing messages to patients, introduction of new technologies and treatments, and engagement through social media. Additionally, nearly all paper forms have been eliminated in the office with the use of digital signature pads and through electronic integration with outside labs.
"I am honored and humbled to receive this recognition," said Dr.Ortman. "Receiving this honor, is truly a testament to our hard work and commitment to providing patients with the best eye care possible. I am especially proud of how our staff members are so committed to our practice by putting patients first."
All U.S. optometry practices currently fitting contact lenses were eligible for consideration. Candidates were evaluated and honorees were selected by a panel of judges made up of past Best Practices honorees, optometry industry experts, and CooperVision leaders. Evaluation was based on insights and experiences shared about the practices' innovation, patient experience, and business culture.
"Like many industries, the field of optometry is ever changing, which presents new challenges for eye care professionals every day," said Michele Andrews, OD, Senior Director of Professional Affairs, North America, CooperVision. "Creative, innovative practitioners and their staffs—like those at Castle Pines Eye Care—are overcoming those challenges, delivering the best possible eye care to their patients, and building prosperous practices in the process.
These are exactly the experiences we hoped to uncover with the Best Practices initiative, and it's truly inspiring. We look forward to partnering with Castle Pines Eye Care and our other Best Practices to share their stories across the industry to help educate others who strive to do the same."
In the months to come, the 2017 Best Practices will be broadly recognized and presented with opportunities to help educate and elevate the profession through the telling of their stories across the United States. In addition, honorees have been invited to attend an educational meeting this month at CooperVision's research and development facilities in Pleasanton, California.
CooperVision will open 2018 Best Practices submissions later this year. For more information on the 2017 honorees or the program itself, visit www.eyecarebestpractices.com.
About CooperVision
CooperVision, a unit of The Cooper Companies, Inc. (NYSE:COO), is one of the world's leading manufacturers of soft contact lenses. The Company produces a full array of monthly, two-week and daily disposable contact lenses, all featuring advanced materials and optics. CooperVision has a strong heritage of solving the toughest vision challenges such as astigmatism and presbyopia; and offers the most complete collection of spherical, toric and multifocal products available. Through a combination of innovative products and focused practitioner support, the company brings a refreshing perspective to the marketplace, creating real advantages for customers and wearers. For more information, visit www.coopervision.com.
About The Cooper Companies
The Cooper Companies, Inc. ("Cooper") is a global medical device company publicly traded on the NYSE (NYSE:COO). Cooper is dedicated to being A Quality of Life Company™ with a focus on delivering shareholder value. Cooper operates through two business units, CooperVision and CooperSurgical. CooperVision brings a refreshing perspective on vision care with a commitment to developing a wide range of high-quality products for contact lens wearers and providing focused practitioner support.
CooperSurgical focuses on supplying women's health clinicians with market-leading products and treatment options to improve the delivery of health care to women. Headquartered in Pleasanton, CA, Cooper has approximately 10,000 employees with products sold in over 100 countries. For more information, please visit www.coopercos.com.
Media Contact
Heather Kowalczyk
McDougall Communications for CooperVision, Inc.
heather@mcdougallpr.com or (585) 330-4878
3993 Limelight Ave., Unit F
Castle Rock, CO 80109
Mon-Thur: 8:30am – 5:30pm
Fri: 8:00am – 5:00pm
Sat: 8:00am – 1:00pm
8585 W. 14th Ave, Suite C
Lakewood, CO 80215
Mon-Thur: 8:30am – 5:30pm
Fri: 8:00am – 5:00pm
Sat: 8:00am – 1:00pm